April 25~17, 2014 (Fri~Sun, 2558 Buddhist Era)
Vicinity of Jogye-sa Temple, Seoul, South Korea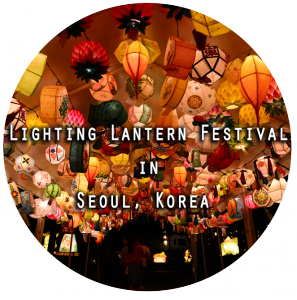 The Yeon Deung Hoe is a traditional Korean folk festival that began in the Goryeo Period (918 – 1392) as the Lotus Lantern Assembly (Yeondeunghoe) and continued in the Joseon Dynasty (1392 – 1910) as the Lantern Celebration (Kwandeung-nori). According to Buddhist beliefs, the act of lighting a lotus-shaped lantern will light up the dark parts of one's soul. By doing this, the evil and flawed parts of one's soul are stripped away leaving only a clean slate to start anew. Lanterns are also lit to dispel the darkness that is in the world, symbolizing one's hope for a wiser and more compassionate society.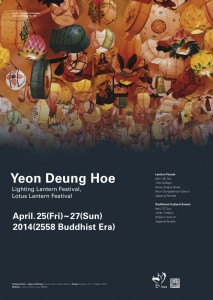 In tribute to a millennial tradition you are cordially invited to Korea's annual Lotus Lantern Festival which will definitely lighten your hear and brighten your world.
Organized to celebrate the Buddha's coming into this world, the month-long Lotus Lantern Festival will pack its most highlighted events into three days on April 25~27.
There are hands-on experiential programs and performances to sing and dance along with, as well as parades and exhibitions to see. Most programs are family-oriented, so bring your families and loved ones and immerse yourselves in the festival's spiritual ambience and energetic togetherness which you won't be able to experience anywhere else.
On the night of April 26, more than one hundred thousand lotus lanterns will light up the Seoul night. The majestic parade of lanterns in unimaginable shapes and colors will bring the hearts of both participants and spectators together as one.
Festival Information
Exhibition of Traditional Lanterns
Please come see the meticulously crafted and exquisite lanterns made of hanji, traditional handmade Korean paper made from mulberry bark. Each lantern tells its own story with its warm, cheerful light.
ㆍApril 25 (Fri) ~ May 11 (Fri)
ㆍVarious places such as Jogye-sa Temple & Bongeun-sa Temple
Lotus Lantern Parade
Hundred thousand Lotus Lanterns brighten the heart of Seoul!
Behold a brilliant ocean of light from the countless handheld lanterns and the grand ornate lantern floats in the festival's main attraction. Not to be missed.
ㆍApril 26 (Sat) 7:00 ~ 9:30 pm
ㆍBegins at Dongdaemun and proceeds to Jogye-sa Temple, along Jongno Street
(Subway Line 1, 3, 5 Jongno 3-ga Station / Line 1 Jonggak Station or Jongno 5-ga Station)
Hoehyang Hanmadang
Following the parade, participants and spectators come together to end the festivities in a spirit of dedicating one's merits to others. Buddhist entertainers put on a show and the audience gets into the act, dancing hand in hand. Fondly called the 'Flower Party' by foreigners, it is a joyful night with a rain of flower petals from the sky climaxing the festival.
ㆍApril 26 (Sat) 9:30 ~11:00 pm
ㆍJonggak Intersection (Subway Line 1 Jonggak Station)
Traditional Cultural Events
Experience firsthand traditional Buddhist culture and festivities!
One hundred exhibits will line the street in front of Jogye-sa Temple.
Visit the various booths to make lotus lanterns, create Buddhist art, try temple food and play traditional Korean folk games. There are also booths introducing the Buddhist cultures of Tibet, Mongolia and Southeast Asia. Do not miss this experiential event, a favorite of the festival!
ㆍApril 27 (Sun) Noon ~ 6:00 pm
ㆍStreet in front of Jogye-sa Temple (Subway Line 1 Jonggak Station / Line 3 Anguk Station)
More about Yeon Deung Hoe(Lighting Lantern Festival / Lotus Lantern Festival) >>